Friends, it's time to gather around and enjoy an interactive Whatsit Holiday Spectacular. Take this opportunity to spread a bit of cheer to friends and current (or former) lovers by reaching into your heart (need you be reminded that this is the time of giving?) and telling us: who reminds you most of "Mall Santa"?
See examples below (and one advanced warning: there's a giant baby jesus ahead). Remember, be sweet. It's Christmas.
Hermey the Misfit Elf (who prefers studying dentistry to making toys) = PB. She's a great saleswoman, but flirts dangerously with the artist/writer's life.
Rudolph = Jeremy Zitter. Rudolph runs around with a stuffy nose in one scene, repeating that he's "independent." Is it just me, or is there a resemblance?
The Grinch = Dave B. People, it's obvious.
The Charlie Brown Christmas tree = Stella, who can find beauty in anything.
Barack Obama = Farrell Fawcett: I know, Obama's not really christmas-y, more like Kwanzaa, but he's hot right now. And I vote Farrell as most likely to become a politician despite himself.
Baby New Year = a tie between Baby William, Baby Parrish, and Tim Wager (have you seen this guy's baby face?). You make the call.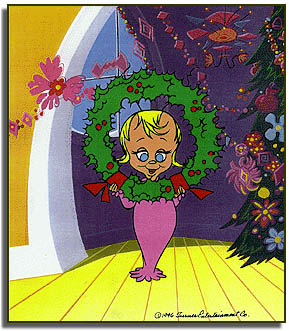 Little Cindy Loo Hoo = Lisa Parrish: except with a leather mini-dress, studded belt, and motorcycle boots. Lisa Tremain as understudy.
Ralphie Parker = Stephanie Wells, who probably loves this movie. By the way, this girl has got more than one thing that'll put your eye out.
Baby Jesus = Bryan Waterman: shining his light of eternal love upon all of us (Dave, I'm home.)
Snoopy Santa = Scott Godfrey: they're both just so cute. And Scott does seem to love fake mustaches.
Mall Santa = Ruben Mancillas: there's some evil lurking here.
Peace on earth, Whatsiters. Good will to all. And may your days be merry and bright.